Have you ever been stuck in a situation where a patient complains of symptoms that don't add to a specific disease?
If this is happening to you, it might be time for you to check out the online version of Access medicine's Differential Diagnosis Tool to help you with your patient.
The Accessmedicine app is an online software program that has been designed based on the curriculum taught in medical schools.
If you are looking for an app that will allow you to make up lists of different diseases that can help you come up with a differential diagnosis, then the online version of the Access medicine app is what you should be using.
The differentials diagnostic tool works by allowing the user to list the main symptoms presented by their patient while adding other significant features such as occupation and family history.
The differentials diagnostic tool has been divided into different categories to help you better understand what you should be looking for.
The online version of this app also has links to different medical journals that can be used to find more accurate information on some of the conditions listed in the patient's file.
The Accessmedicine online app is one of the best tools you can rely on when trying to come up with different diagnoses for your patients.
It is available online, so you can have access to it at any time of the day, even when you are practicing self-care or taking care of your family. Here are the benefits of using the Accessmedicine app:
Time Savings:
There is no need to go through the medical encyclopedia and textbooks to learn about rarer conditions. The app will do it for you, saving an enormous amount of time.
More Time To Focus On The Patient:
As a medical student and a doctor or nurse, you will be able to save more time, thus being able to spend more time with your patient and their information.
Accessmedicine app allows students and doctors/nurses to make better diagnoses and treatments for patients.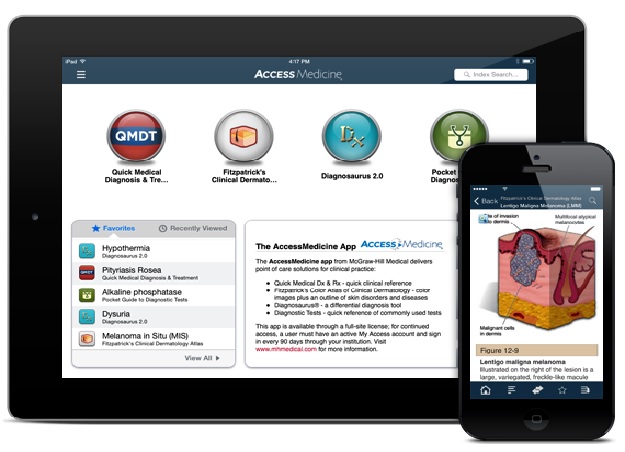 Differential Diagnosis Is Made Even Easier:
It allows you to click on symptoms and highlights the most likely diagnoses causing them. It will help medical professionals make a more accurate assessment of their patients, thus coming up with the best possible treatment plan for them.
The app's features allow doctors/nurses to develop better treatments and diagnoses for their patients.
Learning About Rarer Diseases:
It may not be a benefit when you are diagnosing the patient, but it is highly beneficial when you are learning or refreshing your knowledge before seeing such cases in practice.
You can learn much more about rare diseases with the app's help than reading through pages of textbooks.
Accessmedicine app will help medical professionals better learn about rare diseases, which they can then see in practice. All the information you need is at your fingertips.
No more flipping through several books to find what you are looking for. Just open the app, look for symptoms/diseases.
Convenience:
You can access the app from your phone, tablet, or desktop computer. As long as an internet connection is available, you can get vital information during clinical rotations or on-call.
A new experience:
The differential diagnosis tool offered by Accessmedicine is like no other. It is highly intuitive and easy to use, perfect for beginners. Even if you have been using the app for years, there is always something new to learn.
The team of experts who compile the information is constantly updating the content to ensure that you are getting the most accurate and current information possible.
In-depth information:
When you have a patient with unusual symptoms, you need to draw on knowledge from many different areas. Using Access medicine's differential diagnosis app allows you to do just that.
It is fast:
Accessmedicine dramatically reduces the time it takes for clinicians and students to find the relevant information they need.
It gives students and clinicians unlimited access to virtually any disease or condition.
It is accurate:
When information is added to the Accessmedicine database, it goes through a stringent review process to ensure that only accurate and authentic information finds its way into the knowledge bank.
It Is Peer-Reviewed:
If you have been out of medical school for some time or have been too busy seeing actual patients, you may not have time to read the latest medical literature.
Books and journals take time to put together and can be bulky, making it difficult for busy doctors and nurses to carry them around. Even worse is having a pile of journal articles on your desk that never get read because there is no time.
Accessmedicine differential diagnosis app provides its users with Pocket Guide to Diagnostic Tests access to the latest medical information in its original form without taking up too much space.
Conclusion:
The Accessmedicine app is a great way to access the same curriculum that medical students are taught in their undergraduate courses.
If you have been looking for an online software program that will allow you to make up lists of different diseases, use this one!
If you learn more about how the Accessmedicine app can help with your differential diagnosis, get an Accessmedicine subscription with AFKEBOOKS and enjoy the services.